Professor Owl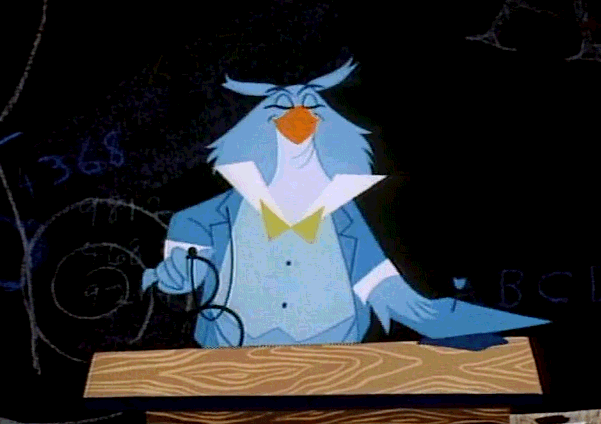 One in a series of posts dedicated to pop-culture depictions of owls — as stand-ins for educated, highbrow humans — from 1924–1983. The series derives its title from Owl's home in A.A. Milne's Winnie-the-Pooh stories.
Professor Owl, a character who first appeared in the 1953 Walt Disney animated shorts Melody and Toot, Whistle, Plunk and Boom, in which he instructs a class of birds about the fundamentals of music, was designed by Ward Kimball — one of Disney's greatest animators post-Ub Iwerks.
Does his voice sound familiar? Professor Owl was voiced by Bill Thompson, who also played Mr. Smee in Peter Pan, the lethargic yet cunning basset hound character Droopy (in Tex Avery cartoons of the 1940s), the White Rabbit and the Dodo in Alice in Wonderland, five different dialect-spouting dogs in Lady and the Tramp, Fred Flintstone's boss, and many other roles.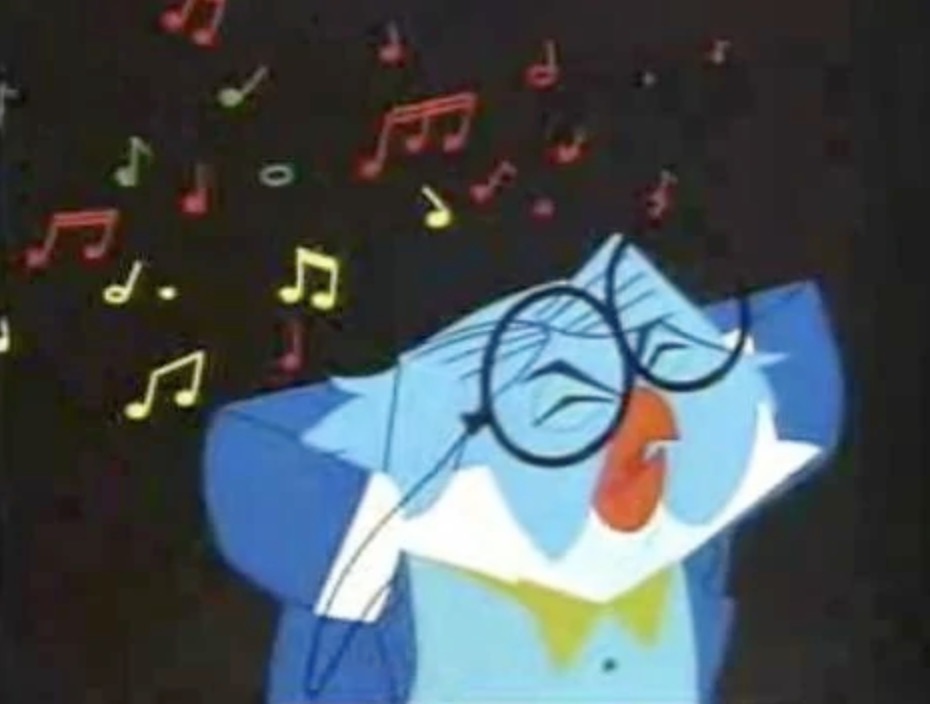 My elementary school must have aired these shorts for us half a dozen times; I remember them well. To this day, there are certain subjects — math, science, music — that I can only learn about via cartoons. Musical cartoons, if possible.
Unlike other owls we've encountered so far, Professor Owl is not a blowhard or con man. In fact he is an engaging and talented educator. However, like Professor Fritz Owl, he is a highbrow, stern with recalcitrant pupils. Unlike Professor Fritz, he is also rather clumsy and hapless — a figure of fun, a head-in-the-clouds type who moves through the world awkwardly.
Other music- and diction-teacher characters — human characters, that is — both before and since Professor Owl have also been depicted as… owlish. One thinks, for example, of the fussy diction coach in Singing in the Rain (1952) who is humiliated by his exuberant students. Or Susan Sarandon's character in The Witches of Eastwick (1987), say, or Dianne Weist's in Little Man Tate (1991), or Richard Dreyfuss's in Mr. Holland's Opus (1995). One could go on.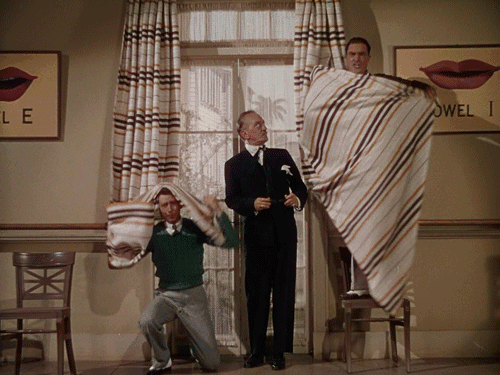 Shorofsky, the owlish music teacher in the 1980 movie Fame, played by Albert Hague (who reprised the role in the 1982–1987 TV show), seems to me descended not from Professor Owl but from Professor Fritz Owl. Justin Long's awkward but adorable music-teacher character Paul Genzlinger, a recurring character on the TV show New Girl, is Professor Owl-ish though.
Did you know? In the 1980s, Disney rebooted the Professor Owl character as the host of their Sing Along Songs series.